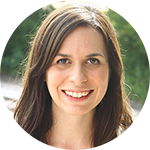 I'm a nonprofit development and communications professional with experience in annual fundraising, website management, email marketing, graphic design, and social media. 

I currently work for Sustainable Food Center (SFC), an Austin, TX nonprofit working to support our local food system. In this role, I focus on variety of areas in development and communications. 
I lead the creation and deployment of SFC's bi-annual fundraising appeals, both online and through direct mail. I manage all agency social media networks, the SFC website, Raiser's Edge constituent database and Luminate Online marketing system, as well create the agency's weekly eNewsletter and other marketing materials such as brochures, flyers, and print advertisements. 

Coworkers know me as a creative and dedicated team player who can always be trusted to consistently create materials that further the agency mission. I love learning new techniques and enjoy trying new tasks that challenge me and expand my skills. I stay current on best practices that can be implemented to enhance the organization's communications and development practices. 
I have a Master's of Science in Social Work from The University of Texas at Austin and a Bachelor's of Science in Studio Art from Florida State University.
I enjoy connecting with others in my industry, and am available for freelance work in graphic design, Luminate Online, Raiser's Edge, social media marketing and more.