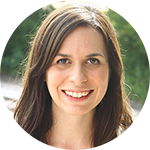 I'm a nonprofit communications and technology professional with experience in marketing, graphic design, photography, social media, annual fundraising, CRM systems and website management.
I most recently worked for Sustainable Food Center (SFC), an Austin, TX nonprofit working to build a just and regenerative local food system and increase access to healthy food for all. In this role, I focused on a variety of areas in development, communications, and technology.
As the SFC Communications Director, I enhanced the organization's brand presence through the creation of marketing materials such as brochures, flyers, and print advertisements, as well as documenting our programs through photography. I led the creation and deployment of SFC's bi-annual fundraising appeals, both online and through direct mail. I managed all agency social media networks, the SFC website, Raiser's Edge constituent database, and Luminate Online marketing system, as well as created the agency's weekly eNewsletter. I also led the 2021 selection and migration to SFC's new CRM and marketing tools platform, EveryAction.
Coworkers know me as a creative and dedicated team player who can always be trusted to consistently create materials that further the agency's mission and brand. I love learning new techniques and enjoy trying new tasks that challenge me and expand my skills. I stay current on best practices that can be implemented to enhance an organization's communications and development practices. 
I have a Master of Science in Social Work from The University of Texas at Austin and a Bachelor of Science in Studio Art from Florida State University.
I enjoy connecting with others in my industry and am available for work in CRM implementations, donation form setup, email marketing, graphic design, photography, social media marketing, and more.